Eyebrow Microblading
It is a semi-permanent secret to filling eyebrows that look totally natural. It is a hassle-free solution to stop spending hours pencilling your eyebrows and get permanent eyebrows in Kolkata. It's ideal for all medical states, thin hair growth, or by-birth thin eyebrows. Using the super fine pen, we create perfect arch-shaped eyebrows using eyebrow microblading in Kolkata, which is a dream for many. The procedure will beautify your facial features without the tension about filling, smudging, or disappearing.
Benefits of Eyebrow Microblading:
If you're thinking about getting eyebrow microblading in Kolkata, consider the following benefits:
Long-Lasting Results
Hassle-free
Needs no maintenance
Easy to regain eyebrows
Painless, safe, and effective
Natural looking outcomes
Waterproof impacts
Short process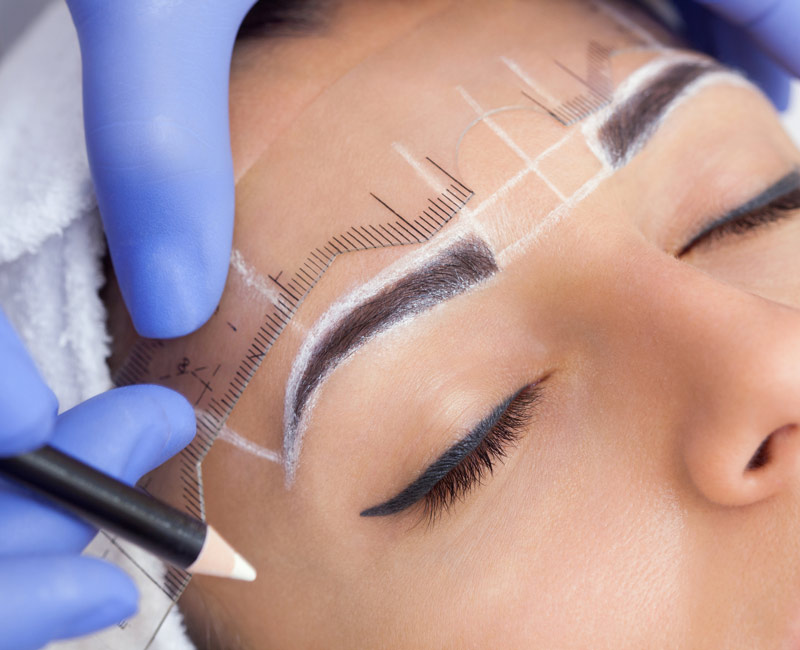 ---
Process of our Eyebrow Microblading Service:
It is a type of cosmetic remedy for getting permanent eyebrows in Kolkata. The process comprises of:
Consultation: The first step is a consultation to discuss the desired look and examination of the skin type and colour to select the best pigments.
Preparation: The artist will clean the eyebrows and apply a numbing cream to reduce pain before the procedure.
Microblading: Using a hand tool, the artist will deposit pigments creating hair-like strokes into the skin.
Aftercare: The artist will provide instructions on aftercare, including avoiding water and extreme sweating and applying ointment for a specified period.
Touch-up: A touch-up session may be required 4-6 weeks after the initial process to perfect the color and shape.
Who Should Avoid Microblading?
While eyebrow microblading is great for almost everyone, some people are ineligible for it. Some of them include:
If you have a sunburn
If you are on chemotherapy
If you are pregnant or lactating
If you have an open wound on the brows
If you have a transmittable blood disease
If you have any skin condition on or near your eyebrows which includes eczema, shingles, rashes, or anything else near your eyebrows
After waxing (must wait 3 days)
After chemical peels (must wait two weeks)
Ombre Shading
Ombre brows is an advanced semi-permanent makeup procedure for eyebrows that gives the eyebrows a powdery, faded front and a sharp tail. If you are obsessed with smooth, powder-filled brows which resemble similar to a makeup look, then Ombre Shading is the perfect procedure to get perfect permanent eyebrows in Kolkata. It adds subtle depth to faded-looking brows, making them appear more natural than other methods. So if you fill in your brows regularly, with this treatment, you can wake up with perfectly tinted eyebrows.
Benefits of Ombre Shading:
Gives a soft shaded brow pencil look
Long-lasting
Less Invasive
Ideal for oily or sensitive skin
6D Eyebrow Microblading
6D Microblading is a process that involves adding colour pigments into the empty spaces of your brow skin and filling it up. 6D eyebrow microblading in Kolkata includes hair stroke Microblading to increase the intensity of the brows. It is a technique that is the most comfortable and safe process which involves minimum pain. 6D Microblading is implied to be a soft, natural enhancement to form the illusion of fuller eyebrows for a permanent eyebrow in Kolkata. It is the perfect option for those who want to fully reconstruct, cover gaps, or fill in over-plucked brows.
Benefits of 6D Eyebrow Microblading:
Painless, Safe and Effective
Natural Looking Results
Hassle-free and Needs No Maintenance